Tech Training for EAL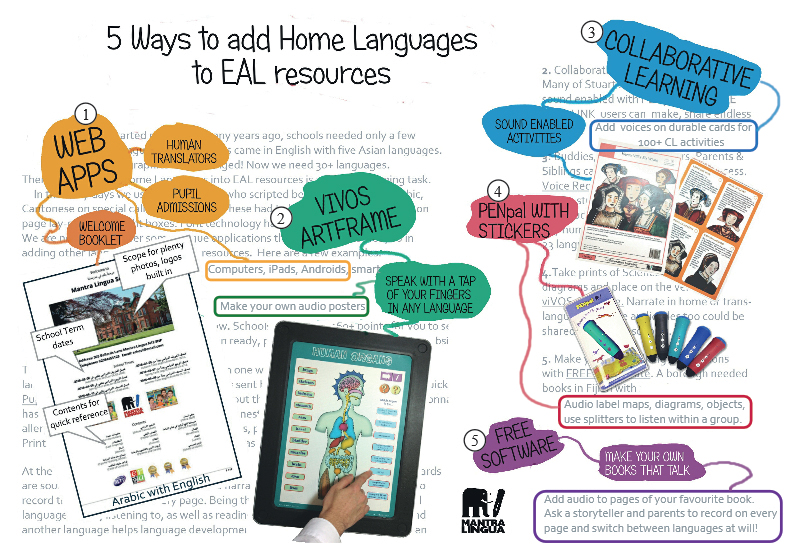 Free Half Day Tech Training Courses
Next course date is 29th January in Winchester
(Places are limited to 8 people, so please reserve your space early.)
"Fabulous - very clear and infomative. It was valuable to use the PENpals and I feel they will be very versatile in school" Caroline
"Brilliant introductory session, good pace with opportunities for questions and answers" Shanaz
"Amazing resources - versatile and adaptable. Clear instructions and lots of hands on experience" Jackie
"Very good delivery of training. Will use it while doing guided reading" Nafi
Other recent feedback:
" Training was beyond my expectations! So excited to get started on recording and creating our own publications." Jane Wheeler, Emerson Valley School, 5th April 20117
"A very useful session. Lots of super resources to use with EAL pupils. Useful for SEN pupils too.
Super ways to help parents learn English with their children. Love the e-books and PENpals."
Rachel Ballard, ATL Teacher, new arrivals. St Mary's CE Primary, Slough. 4 JAN 2017
"It was incredibly useful and inspiring.
Everyone left knowing far more about how to use the technology to engage and support learners.
More importantly, everyone left enthused to put this learning into practise in the classroom."
Erica Field, EMA Teaching & Learning Adviser (KS2-4), Early Help & Schools, Rochdale

"Excellent Training.
Great that we were in a small group and could ask lots of questions.
Your resources are amazing! More people need to know about this training."
Ursula Head, EAL Co-ordinator,  Brackenbury Primary School, London.
To see individual training videos on how to use PENpal please click below: 
A Power Point of the training is also - Please click here to access it.

This file is for current users and enquirers. It shows you, in a series of very short videos, how to use PENpal, Dual Language Ebooks, Welcome Booklet App, viVOS Artframe....You will soon be able to add home languages to your EAL Resources. 

The most recent training sessions were in Norfolk and our offices in North London.
 
If you attend you are entitled to a 25% discount on PENpal.
The course covers the use of PENpal, ebooks, viVOS Artframe, and the new e-forms for Dual Language Welcome Booklets.
. Use of PENpal to access and create multi-language books, posters, and bespoke, talk-enabled printed resources
• Learn how to use multi-lingual paper based resources with audio voice-overs
• Record voice(s) on recordable sticky labels or pages of a book
• Manage content stored on multiple sets of PENpals
• Download over 1000 free bilingual audio files with FREElink


2. Mantra Lingua e-booklub: be proficient with the new e-book library of over 450 dual language books. Children can take home e-books to share with their parents. Maximise use on iPads, androids, laptops, and interactive whiteboards
• Learn to access on computers, laptops, iPads/androids, and smartphones
• Search for a book or languages, and read interactively
• Learn how to make and share notes to help build vocabulary
• Learn how to use the activities that help to increase vocabulary and confidence
Each participant will have 1 months free membership to Mantra Lingua e-booklub
3. An introduction to viVOS A3 tablet: place your own wordlists, drawings, mindmaps, photos, or viVOS, and fill them with voice recordings instantly
• Ideal for the new entrant to get started in a creative learning process even without knowing English
• Learn how to operate viVOS and how it manages content
• Make voice recordings with a tap of your finger on any A4 or A3 paper, anywhere
• Use resources and add resources on the free viVOS library
Venue
The training will be 1:00pm to 4pm in our offices in London
Mantra Lingua Ltd
Global House, 303 Ballards Lane
Finchley, London
N12 8NP
Contact
Please contact for booking information
Henriette Barkow, t: 0208 44 55 123 x108  e: henriette@mantralingua.com
Note to EAL Support Services
We are happy to come to your training day and run a basic PENpal course as a bolt-on to your programme. If this is of interest, please contact Henriette. (henriette@mantralingua.com)
We would need an audience of minimum 15 attendees to cover our costs and half transport costs if outside London.