Webapps
Dual-Language "Welcome to Our School"  App in English with 15 languages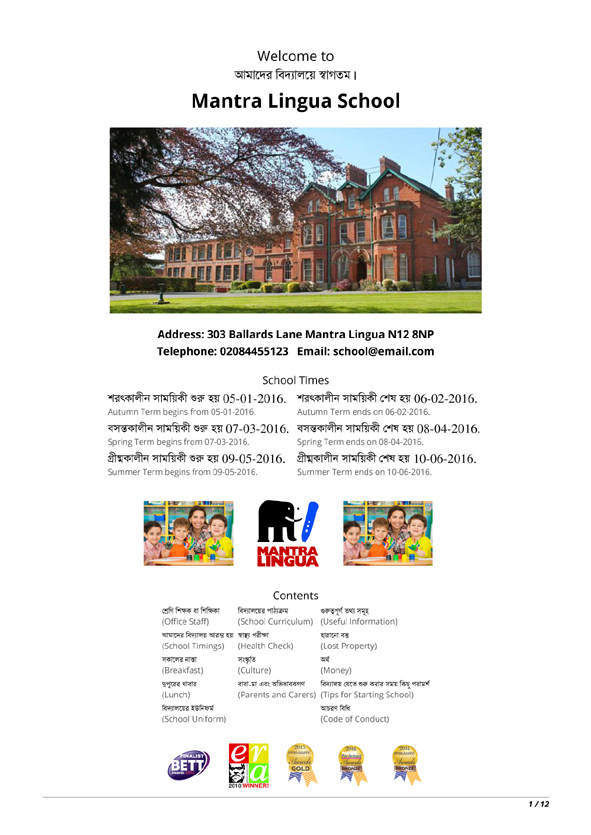 Passing on vital information to parents is key to pupils succeeding in school. With this in mind, Mantra Lingua has developed a web app for you to create your own personalised school handbooks. You specify the term dates, half-term breaks, parent-teacher evenings, school policies, and advice on how to get more involved with your school. Parents will continuously want to refer to their handbooks in order to gain an understanding of how your school works and the role that they can play.
You can print the PDF that you create. You can also place it on your school website for instant access.
We researched over 40 existing Welcome booklets and asked EAL consultants and co-ordinators.

"I love this! You have so clearly thought about what it is like to be a new parent. There is a clear sense of covering what a parent would want to know..." Erica Field, Rochdale EMA Service.
Please tap here or on the image on the right and watch a short video. 

Translation App: Translate, by Humans, your English Text in 100 languages!

You may need just a sentence or paragraph translated on many occasions. This breakthrough solution demands no minimum charge, and will send a Word document with English and the home language to you within a maximum of 3 working days. Let's imagine that you wish to add a paragraph to the Welcome School form mentioned above. So you copy and paste it into the Translation App. Then you select the language(s) you need, and click 'send'. That's it.

Once you receive the Word doc, copy and paste it back into the Welcome App or any other document you are preparing. And you can use the same phrase over and over again!

Prices are fixed, regardless of language. £0.10 per word. We ask that you should try to send us a sentence at least if possible. Remember, we use humans and not computers. Indeed, Google Translate® is not available for many of our home languages, such as Somali and Dari. You can send us a Purchase Order with your sentence, or if you like you may send an advance and draw down from it. (10p per word is the usual rate for translation agencies, but with this app there is no minimum number of words or minimum costs).

To register yourself free for this Translation App, please send your email and school details to  brandon@mantralingua.com.

You will then be given a password and user name (editable) and can have the translation app on any computer or device in your school.