How gardens can spring up in the most unexpected of places –
when we all work together
Errol's Garden is the tale of Errol, who lives in an apartment full of beautiful, thriving plants. Errol is so good at growing things that the apartment is almost full. Errol longs for his own outdoor space where he can grow as many things as he likes.

Errol dreams of blooms and bugs and butterflies. He dreams of seeds and spades, gloves and rakes. Then, one day, by chance, Errol discovers the way to make his dream come true. He soon discovers, however, that he can't do it all on his own.

As we learn how he works with others in his apartment building, Errol's Garden is an engaging, heart-warming tale of how a community can come together, regardless of background, or age, or physical ability. Everyone has something to give.

Journey along with Errol and experience the scents, the colours, the textures, the patterns of Errol's Garden, as well as the sense of creating a shared space for everyone to enjoy.

The bold and bright illustrations on every page make Errol's Garden a delight to read aloud. (Or in your head, if you prefer!) It would make a great starting point to talk about teamwork, community, sustainability, and, of course, gardens!

Errol's Garden is available in 34 dual language editions: English with Albanian, Arabic, Bengali, Bulgarian, Cantonese, Farsi, French, Greek, Haitian-Creole, Hebrew, Hindi, Hungarian, Italian, Japanese, Korean, Kurdish Kurmanji, Kurdish Sorani, Latvian, Lithuanian, Mandarin, Panjabi, Polish, Portuguese, Romanian, Russian, Slovak, Somali, Spanish, Swahili, Swedish, Tigrinya, Turkish, Urdu or Uzbek.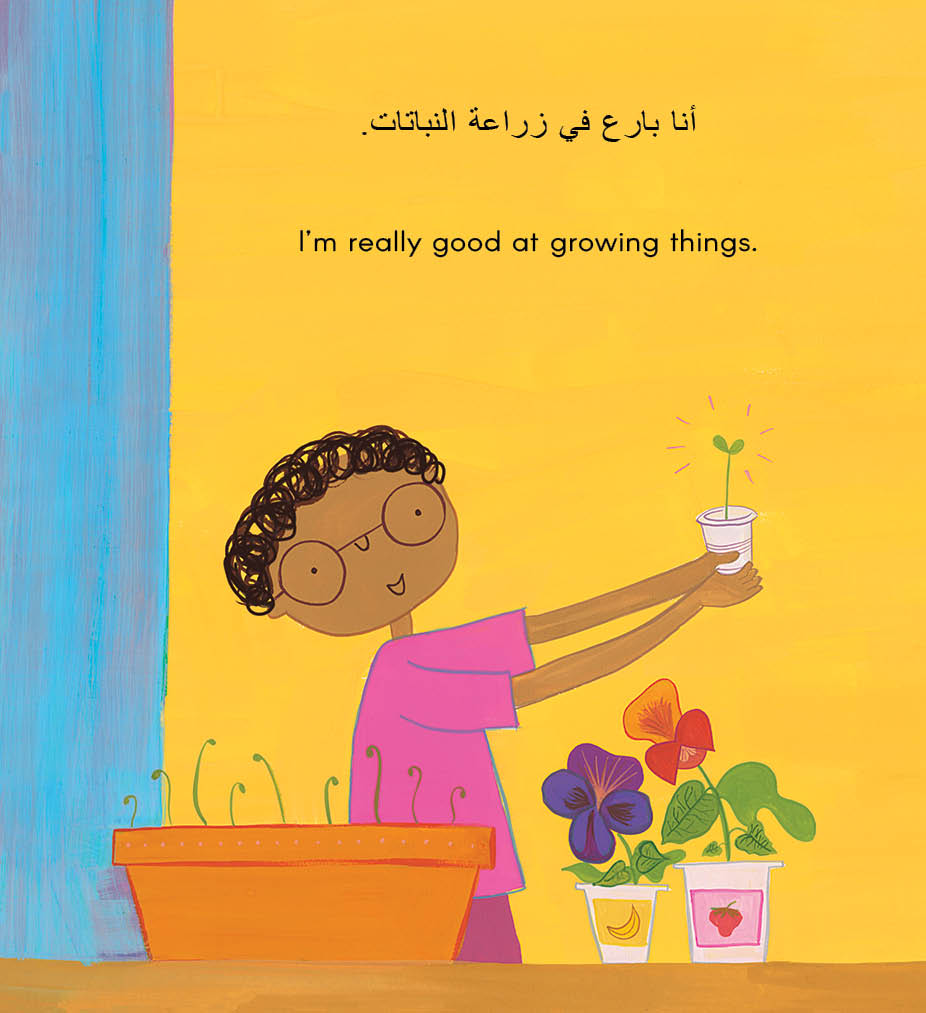 PENpal – Innovation in audio for children's books
Mantra Lingua's PENpal brings dual-language stories alive, with dual-language audio on every page. When a reader touches the page, this clever, innovative digital pen reads the text aloud, in any of the languages in the books.

Listening to the lovely story of Errol's Garden, told in everyday words, can help children with their Home Language and with English.

The images help children understand the story, and the PENpal helps with both comprehension and engagement. PENpal users can skip easily between languages, and using the 'record' function means they can even add their own voice to the pages. This helps to build confidence, encourages role play, and develops both literacy and oracy skills in English.
Awards
Errol's Garden author and illustrator Gillian Hibbs won the 2019 Growing Good Kids Award from the Junior Master Gardener Program and the American Horticultural Society.