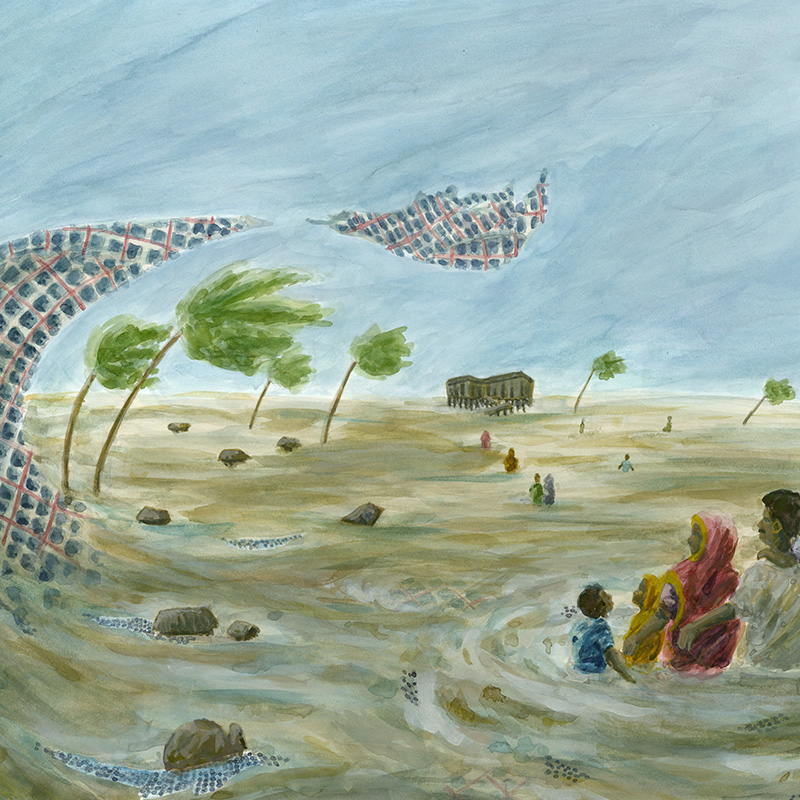 Bangladesh and East India are, sadly, no strangers to cyclones, but in May, 2020, the worst storm for 13 years hit the area. In an area already bearing the brunt of so much climate change, in the midst of a global COVID-19 pandemic, the damage is heart-rending.

Cyclone Amphan first made landfall on 13 May 2020 as a low pressure system. By 16 May 2020, winds had reached sustained speeds of 100mph, according to data from the US Joint Typhoon Warning Center.

In 2018, the Bangladesh government approved Delta Plan 2100. Over the next 80 years, the plan aims to manage water and land management and development for a sustainable future. Cyclone Amphan is estimated to have caused over £10 billion worth of damage so far – the costliest cyclone since records began.

The area has long suffered from the change in global weather patterns. Professor Sergei Shubin and his team, at Swansea University, have been working with villages in Bangladesh as part of the PACONDAA project. The aim was to engage local farming communities in the area, allowing them to tell their tales of poverty and the socioeconomic impacts of outbreaks of disease. The aim was also to allow the sharing of best practice.

When such a disaster hits, stories offer one way to help process what's happening on a personal level. Working with Professor Shubin from Swansea University, we have published "A Canvas of Children's Lives: Stories from Assasuni, a village in Bangladesh".
The three stories are "Cursed by God", "Family With No Friends", and "The Storm". In these three uplifting tales, we hear of families and communities whose lives were turned upside down by Mother Nature. The stories are told in straightforward, authentic language, and the dynamic, relatable illustrations are by Stefan Gibson.

We learn that true wealth lies not in material possessions, and that it's okay to extend a hand when we need help, and to return that help when we can. The stories tell of teamwork, compassion, and co-operation for the good of all, as communities work together to build as sustainable a future as possible.

Further Information